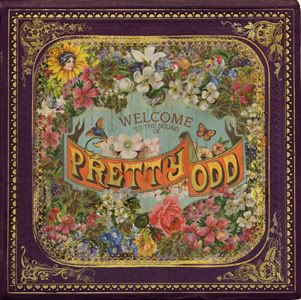 I got Panic at the Disco's new album
Pretty. Odd.
as soon as it came out, because I was ragingly curious about what the rest of it was going to sound like and I'd fallen in love with "When the Day Met the Night." As soon as I was in the car, I started to play it.
That was over a week ago.
It's taken me this long to write the review simply because I can't get over the shock of how much I absolutely, positively adore this album. In fact, I'm pretty sure my love for this album is a felony in Texas, though there's a rumor the Netherlands will soon recognize our marriage. I haven't listened to another album since I got it on the 25th it's that good.
Does it sound anything like their previous album? Well, there's a definite Panic vibe. You won't get confused and think you're listening to the Beatles or anything (even if it has clearly been influenced by
Sgt. Pepper's Lonely Hearts Club Band
). But, it's a very new direction for them. I've already heard from someone who'd loved
A Fever You Can't Sweat Out
that she hates
Pretty. Odd.
There's no guyliner here, no sarcasm. It's all fairly mellow, with little moments of folk ("Folkin' Around"), '50s era jazz ("I Have Friends in Holy Places") and a whole lot of influence from the previously mentioned Beatles and Brian Wilson. In essence, it's far more retro than scene.
My favorite song so far is "Northern Downpour", with "Folkin' Around" as a close second. All of the lyrics were written by Ryan Ross as on the previous album, with the exception of "Folkin' Around" and "I Have Friends in Holy Places", which were written by Brendon Urie.
Despite the huge change in style, the album debuted at #2 on the UK and US charts. In the US, it sold 139,000 copies in its first week, which trumps the band's previous best week, which was when
Fever
sold
45,000 copies during Christmas week in 2006.