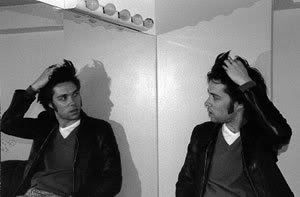 Rufus Wainwright was named outstanding music artist at the GLAAD Media Awards on Monday, for his 2007 album
Release the Stars.
This was the nineteenth annual Gay & Lesbian Alliance Against Defamation Media Awards, which celebrates mainstream media outlets that foster positive images of gay and lesbian people. Rufus has mentioned in interviews before that he's an unusual musical artist in that he was openly out before his career ever began and yet
has
enjoyed mainstream success. This is his second GLAAD Media Award, the first being one for Outstanding Music Album in 1999, for his self-named debut album.
Now, to be perfectly honest, I'm not sure that
Release the Stars
is so outstanding musically as to earn him a new award. It's a great album and has some real gems on it (my favorites being
"
Going to a Town
"
and
"
Do I Disappoint You
") and he's clearly grown as a musician here, but I always felt like
Want Two
was the best album. But, his first album and his fifth are the two that charted the highest and last year he did a series of shows in Judy Garland drag, performing the entire
Judy at Carnegie Hall
album. This award is far more about being in the public eye than artistry.
And for being in the public eye as a gay artist, challenging people's expectations and pushing the envelope? Oh, Rufus is indeed outstanding.