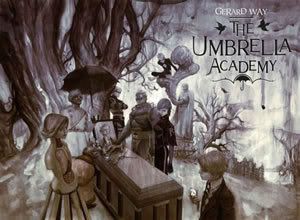 Many successful musicians have used their wealth and name recognition to branch out into new genres or entirely new artistic ventures. Musician turned actor is a fairly common one, though writing musicals, plays and operas aren't entirely unheard of either. Madonna actually wrote six different children's books that all became best sellers, proving once and for all that there is no hope for humanity.
Following in this grand tradition, Gerard Way, frontman of
My Chemical Romance
, has a comic book coming out in September. Titled The Umbrella Academy, the six issue series will debut on September 19, 2007. It's being published by Dark Horse Comics and will feature the writing of Way, the illustrations of Gabriel Bá and cover art by James Jean.
In an interview with MTV, Way was asked to describe the comic but found it difficult to do so:
"It's much like when we were starting the band — the band was very hard to explain to people, and they just kind of had to hear it. I tell people they just have to read the comic. But in short, a [closeted] space alien has adopted seven extraordinary children to save the world. He never tells [them] from what. He's a really bad father, and he dies of a heart attack, and they are all kind of stuck to figure out the rest."
While some might call it a vanity project, it is, at the very least, a vanity that Way has entertained for his entire life. His first job in high school was at a local comic book shop and he graduated from the School of Visual Arts in New York City with a Bachelor of Fine Arts. He'd aspired to be a comic book artist after finishing his schooling, but got sidetracked from the comic industry in 2001, when he formed his band.

The comic has a dark aesthetic, leaning towards a gothic meets WWII look. The previews thus far have shown a strong influence from Grant Morrison, with such hilariously surreal moments as when the characters stumble upon Zombie-Robot Gustave Eiffel. Way has also cited Alan Moore, Neil Gaiman, and Frank Miller as some of his comic idols.